Our cushions are all hand made using 100% spun poly linen or faux poly suede. They are imaged using state-of-the-art dye sublimation technology giving you a permanent and vibrant design.
Our cushion inner's are made from 100% hygienic faux fibre filling to give a plump yet luxurious feel and comply with all regional fire safety regulations. All our zips are sewn into the cushion in an invisible style to provide a clean look and easy care cover.
Vibrant & permanent double or single sided print
100% spun poly linen or poly suede fabric
100% hygienic hollow faux fibre
Inserts comply with regional safety regulations
Concealed zip opening for a clean look and easy care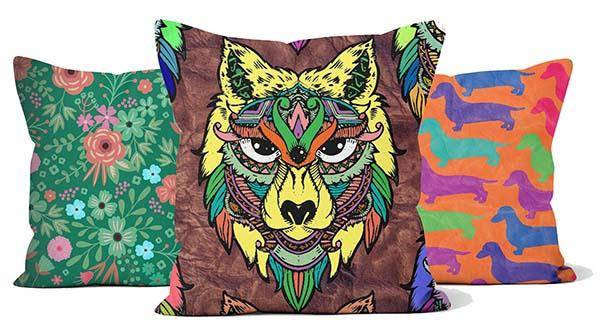 Poly Suede or Poly Linen
30x30cm: with inner £8.00 / cover only £7.00
45x45cm: with inner £10.00 / cover only £9.00
60x60cm: with inner £14.00 / cover only £12.00
45x30cm: with inner £9.00 / cover only £7.50
(30x30cm with Inner) 505g
(45x45cm with Inner) 628g
(60x60cm with Inner) 964g
(45x30cm with Inner) 505g
Size: 4882 x 4882 pixels

Resolution: 200 dpi
Colour Space: RGB
File Type: JPG or PNG
How To Design For Cushions
How To Use Product Mock-up Files
Product mock-up files are used to create realistic marketing images onto which you can apply your own designs. You can then use these images for your Facebook ads or any other marketing needs.

The mock-up files will only work with Photoshop v6.5 and above.
If you do not have Photoshop don't worry our app generates mock-ups automatically for all our products.
Please note the mock-up files are quite large so download accordingly.