Our fashionable decorative face masks come with easy to adjust ear loop straps to easily fit to your face. Made from stretch polyester fabric on the outside for superb imaging and soft comfortable breathable cotton on the inside that wont irritate your skin.
The inside of our masks contain a slip pouch where you can insert your own filters. Each mask comes with 2 x 2.5 PM carbon filters.
Medical Disclaimer: Our face masks are not intended to be used as medical devices or replace in any way medically certified masks. Our masks are purely decorative and we make no representation that they will protect from infection or transmission of any disease or infection whatsoever.
Made from 100% breathable polyester & cotton
Adjustable ear straps
Internal pouch for fitting filters
100% machine washable at high temperatures
Ships with 2 x 2.5 PM Carbon filters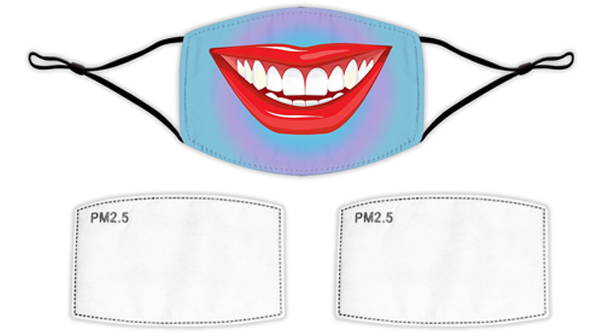 Face Covers
Large Size - 18.5cm x 13cm
Medium Size - 16cm x 11cm
Small Size - 12cm x 10cm
Price: £4.95
Size: 1567 x 1146 pixels

Resolution: 200 dpi
Colour Space: RGB
File Type: JPG or PNG
How To Design For Face Covers
How To Use Product Mock-up Files
Product mock-up files are used to create realistic marketing images onto which you can apply your own designs. You can then use these images for your Facebook ads or any other marketing needs.

The mock-up files will only work with Photoshop v6.5 and above.
If you do not have Photoshop don't worry our app generates mock-ups automatically for all our products.
Please note the mock-up files are quite large so download accordingly.