Our lightweight sleeves are a must-have for any laptop/tablet owner on the go. Available in 3 sizes, the sleeves contain a padded zipper binding with a soft interior to prevent your equipment from getting scratched. The outer material is made from a water-resistant and scratch-proof material, to insure both the equipment and sleeve are fully protected.
100% neoprene
Snug fit
Soft inner lining, no scratches
Customisable front, solid black rear
Lightweight and resistant to water & oil
Top-loading zippered enclosure with two sliders
Padded zipper binding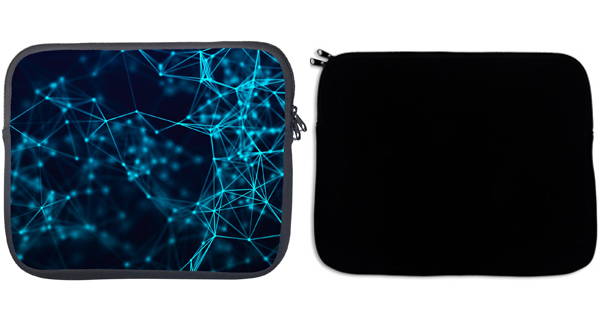 Available in 3 Sizes
Small 10" - £9.95
Medium 13" - £10.95
Large 15" - £11.95
Size: 3055 x 2488 pixels

Resolution: 200 dpi
Colour Space: RGB
File Type: JPG or PNG
How To Design For Laptop Sleeves
How To Use Product Mock-up Files
Product mock-up files are used to create realistic marketing images onto which you can apply your own designs. You can then use these images for your Facebook ads or any other marketing needs.

The mock-up files will only work with Photoshop v6.5 and above.
If you do not have Photoshop don't worry our app generates mock-ups automatically for all our products.
Please note the mock-up files are quite large so download accordingly.