Our adjustable pet collars are strong, stylish, and conform to the UK Control of Dogs Order Act 1992. Fitted with a quick release buckle makes them convenient and super fast to remove. We transfer an image directly into the fabric of the collar which is permanent allowing pet owners to have their contact details available should they lose their pet.
Available in 3 sizes
Large print area
Quick release buckle
Can be machine washed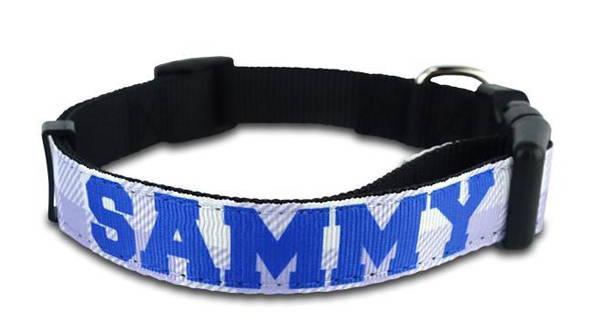 Dog Collars
Small - 1.5cm x 36cm: £5.50
(Suitable for dogs with a neck of 30 - 43cm)
Medium - 2cm x 50cm: £5.75
(Suitable for dogs with a neck of 37 - 58cm)
Large - 2.5cm x 62cm: £6.00
(Suitable for dogs with a neck of 43 - 71cm)
Size: 1760 x 193 pixels

Resolution: 200 dpi
Colour Space: RGB
File Type: JPG or PNG
How To Design For Dog Collars
How To Use Product Mock-up Files
Product mock-up files are used to create realistic marketing images onto which you can apply your own designs. You can then use these images for your Facebook ads or any other marketing needs.

The mock-up files will only work with Photoshop v6.5 and above.
If you do not have Photoshop don't worry our app generates mock-ups automatically for all our products.
Please note the mock-up files are quite large so download accordingly.