Our beautifully crafted Wallet Phone Cases are all handmade using genuine Pictaleather® material. Pictaleather® is soft and luxurious high-quality faux leather that has been specifically designed to take an image that will not fade, or blur overtime. The image on the case will remain sharp and vibrant for the life of the case. Guaranteed!
Strong magnetic closure helps keep your screen safe
Rear camera hole so you can quickly capture photos without fuss
Detachable hand strap for extra security
Tilt & lock styling so you can watch videos or read emails hands free
Pictaleather® incorporates drop protection as standard
Includes 4 internal slots for credit card and a note/receipt compartment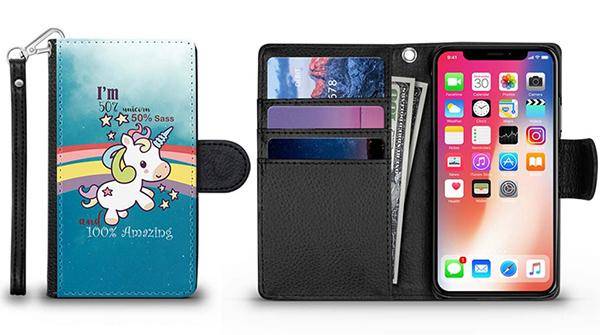 iPhone & Samsung models

iPhone 5 to iPhone 13
Samsung S7 to Samsung S21
Price: £7.95
Size: 768 x 1591 pixels

Resolution: 200dpi
Colour Space: RGB
File Type: JPG or PNG
How To Design For Wallet Cases
How To Use Product Mock-up Files
Product mock-up files are used to create realistic marketing images onto which you can apply your own designs. You can then use these images for your Facebook ads or any other marketing needs.

The mock-up files will only work with Photoshop v6.5 and above.
If you do not have Photoshop don't worry our app generates mock-ups automatically for all our products.
Please note the mock-up files are quite large so download accordingly.